Thomas Middelhoff & Cornelius Boersch: Germany's CEOs are digitalisation failures
Since his prison sentence, the former Bertelsmann and Arcandor boss has been the outlaw of the manager caste. In his new book, co-authored by Cornelius Boersch, he now criticizes Germany's business elite. According to him, they are analogue, fearful and obsessed with control.
The new book by Thomas Middelhoff (67) & tech investor Cornelius Boersch (52), begins in the future - in June 2021, when Tesla founder Elon Musk (49) and Google founder Sergey Brin (47) meet, purely fictionally of course, to complete a mega deal in Silicon Valley: the merger of Musk's e-car manufacturer with Google's parent company Alphabet - and the simultaneous joint takeover of Germany's car icon Daimler.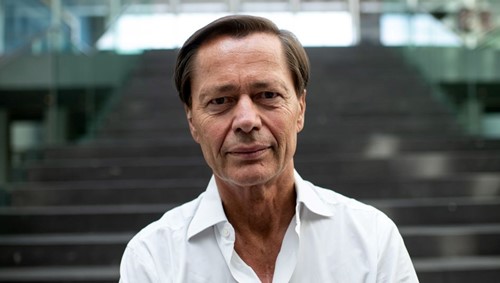 Sounds like a somewhat cheap ploy to attract attention. And indeed, former Bertelsmann and Arcandor boss Middelhoff and Cornelius Boersch, want to use the fulminant overture to show how dangerous it is for the country not to finally make up for its lag in digitalization and instead cling to outdated business models. And they try to demonstrate why the Corona pandemic of all things can accelerate digital transformation to make the country one of the leading digital nations on the planet.
Middelhoff and Boersch's analysis of the causes of Germany's tech crisis is quite successful - even though for years now you can read everywhere how Germany has been missing its digital opportunities. The fact that the pandemic with the home office wave and the push for tech companies is accelerating digitalization no longer surprises anyone either. And unfortunately, the societal to-do list by Middelhoff and Boersch - at the end of the book a little loftily titled the "Ten-Point Programme" - is just a ragbag of more than 70 predominantly political demands, most of which have been thrown into the arena time and again for a long time now (Federal Ministry of Digitalization) or come across as very academic ("positive culture of failure").
The freshness and provocativeness of their analysis: Middelhoff and Boersch draw attention to what they see as the biggest digitalization failures in the country: the managers. They are getting even with them - without concealing their own digital work, which has been unsuccessful here and there.
Since being sentenced to three years in prison in 2014 for embezzlement and tax evasion, Middelhoff is the outlaw of the German manager caste. From 1998 to 2002 he had brought the sedate media giant Bertelsmann into the internet business as CEO, but then failed both because of himself and the resistance of owner Reinhard Mohn (1921-2009). From 2004 to 2009 he was chairman of the supervisory board and then of the management board of the Arcandor retail group, but was unable to prevent the insolvency of the largely stationary KarstadtQuelle group. When Middelhoff now brands the managers as digitalisation inhibitors, he knows exactly what characters, systems and temptations he is writing about.
Boersch is a successful tech founder. Since a profitable exit he has been active as a business angel and venture capitalist. He was one of the first investors at Alando, the predecessor of Ebay Germany, and the Scout24 group.
According to Middelhoff and Boersch, the fact that German managers have so far mostly failed due to digitalisation is due both to their management style and the rules of their environment. They attest that the typical domestic manager has a control mania and an outmoded understanding of leadership, too much thinking in hierarchies and a great fear of losing power. Having been moulded in this way, he would not find access to the thinking of start-ups and venture capitalists and would discourage contact with them wherever she could.
And then there is the system of rules within which managers operate - in other words, the reward and control mechanisms. The authors attest domestic management and supervisory boards a "'feel-good atmosphere' with lots of harmony". Real debates or even control would hardly take place. One reason for this is that the close network of supervisors and board members, which used to operate under the name of Deutschland AG, is still flourishing.
"Since 2015, we have had the impression that this system of 'old representatives' of Deutschland AG is disintegrating due to ageing and mortality rates," write Middelhoff and Boersch. Unfortunately, we are currently seeing renewed efforts to establish a younger version of the Deutschland AG ('People know each other').
In addition, the character of the bonus systems for top managers has "not developed further" for 20 years. As before, digital indicators play hardly any role here.
The failure of German managers is demonstrated using the examples of the Metro trading group, the Bertelsmann group, Deutsche Bank and the car industry. From their point of view, the mistakes that caused Germany's companies to fall behind have occurred above all in the "lost decade" from 2000 to 2010. They show what would have been possible through the success of international competitors. As a result, they consider the market capitalisation and cash holdings of many domestic companies to be too low today to keep up with the global "poker". The scenario of a Daimler takeover by Tesla and Google thus becomes frighteningly real in their eyes. However, Middelhoff and Boersch are too polite (or timorous) in their case studies to call too many managers by name.
However, Middelhoff and Boersch are clear about how the German corner office can be better digitalised: the transfer of CEOs to the supervisory board of their own company should be "fundamentally prevented". The age limit for supervisory board members would have to be set at 70 years. And if every retired CEO accompanied and financially supported two start-ups, "the impact on the digitalization of Germany would be immediately noticeable". Well, off the golf course, dear retired board members, and into the start-up offices.
The book:
Thomas Middelhoff and Cornelius Boersch: "Zukunft verpasst? Warum Deutschland die Digitalisierung verschlafen hat. Und wie uns die Krise hilft, den Anschluss doch noch zu schaffen ", Adeo Verlag, Asslar, 336 pages, 24 euros.
You can find the article here.